My goal is to help readers discover books in amazing and unique ways while helping authors get their books in front of new readers.
I will never charge authors to create a book recommendation list.
I will never charge readers to read book recommendation lists.
I dislike ads, but I added ads in August 2022 to cover more of our costs. I would like to eventually make the site ad-free (more on that below).
I love reading, and I am passionate about this business. Every business needs to make money to build great things and be sustainable. Nobody goes into the book business to make Scrooge McDuck money 😁.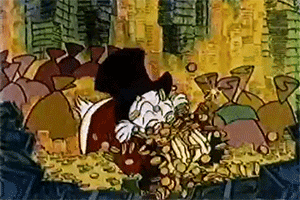 Who is funding this?
I am funding this myself from my savings (more about me and why I am building Shepherd).
I started working on Shepherd in December 2020 and launched the website in April 2021 (here is a timeline of our progress and features). I have enough saved to fund the current spending levels through the end of 2023 (meet the team).
My primary focus is on building features that grow traffic and content so that we reach financially sustainable by the end of 2023 (more details below).
Currently, how do you make money?
Shepherd currently makes money from affiliate advertising, display advertising, a founding membership program, and donations.
Affiliate Advertising
Bookstore partners like Bookshop.org and Amazon give us a small percentage of any book sold (this comes from them and not from authors/publishers). As our traffic grows, this helps to offset our costs.
For example, Amazon pays us around 4% to 4.5% of any book sold within 24 hours (not a great deal as the industry standard is 30 days). If we sell $10,000 of books, our cut is around ~$420. Bookshop.org is a much better partner, and I love their mission as they give almost all their profits back to independent bookstores. I am hopeful we can help more people find Bookshop.org; Amazon needs more competition. Eventually, I will add additional bookstore options.
Display Advertising
I added display advertising in August 2022. I don't like ads, but we need them to help cover more of our costs. We got accepted into a prestigious ad network, and they are a pleasure to work with. I will keep the ads minimal and prefer to keep the website ad-free. Over time I've optimized ads to try to find a balance between having them so we can pay our bills and not annoying the crap out of everyone with them (it is a hard balance to find).
Readers and authors asked me to create a membership program they could join in supporting Shepherd. I am so thankful for this support. Soon I will launch special perks so that members can browse ad-free, get special perks depending on whether they are an author or reader, and a lot more cool stuff is coming (sign up here if you are interested).
100% of your membership goes toward new features.
My goal is to hire a full-time developer in 2023. Currently, we work with a fantastic developer named Marton. He works on a part-time basis. My goal is to hire a full-time developer in addition to Marton. This would allow us to speed up the development of new features. Imagine what we can do with 1.5 developers, given what we have accomplished with 0.5 :).
Authors and readers have asked me how they can financially support the project, and I have created an option to donate if the membership program isn't appealing. I am incredibly grateful for your support, and you can donate at the bottom of this page 😄.
100% of donations go toward new features (see the above goal about hiring a full-time developer in 2023 under the membership program).
How will you build a financially sustainable business long term?
My goal with this project is to make it financially sustainable by the end of 2023, so it can fulfill its mission of helping readers find books in new ways and to help authors meet readers. To do that, we need to reach gross revenues of
$20
,
000
a month.
Our costs break down like this:
14% - Servers, software, and book metadata licensing costs.
35% - The team that runs the day-to-day (I work for free).
61% - The cost of our fantastic freelance developer and freelance designers.
We are a very lean operation.
Goodreads has 347 employees listed on LinkedIn, while we have only 1 part-time freelance developer. Imagine what we could do with an additional developer working full-time.
How will you generate revenue besides affiliate ads and display ads?
I will update this as I map out more of the roadmap.
What will I add in 2023 that will grow revenue?
A personalized book recommendation email. This will allow readers to pick their favorite genres, topics, authors, and books to receive book recommendations via email every few weeks. This will increase our revenue as well as revenue from book sales for authors.
A paid book launch program that will help authors launch new books. I had hoped to add this in 2022, but I want to wait until we have more traffic and genre pages in place.
A membership system for authors and readers. It will allow authors/readers to browse ad-free, and I am working on some special perks for members.
Long term, I have some crazier ideas that I would like to explore...
Targeted book ads. For example, we might have an ad for one book on the book list pages under the 5 recommendations or mix it into the bookshelves. I like this idea because if I wrote a Roman historical fiction book, I might like to advertise that on the bottom of books about Roman History.
A marketplace for children's book illustrators to sell copies of their illustrated work from their books (something I've bought for my son in the past to hang up in his room).
A marketplace for autographed copies of books.
Some wild ideas I won't get into those yet, but I'll share more on the author newsletters as I get further along.
What will you do once you hit profitability?
As we reach financial sustainability, I want to grow the team so that we can build more great features for authors and readers.
I would like to hire a full-time developer in 2023 and speed up the pace of our development. Currently, we work with a fantastic developer on a part-time basis. I aim to hire a full-time developer in addition to our current developer. Imagine what we can do with 1.5 developers, given what we have accomplished with 0.5 :).
Drop me an email or comment if you have questions.