I will never charge authors to create a book recommendation list.
I will never charge readers to read book recommendation lists.
I will never stuff the website full of ads. I HATE ads and I would like to keep the site ad free. Although to fund things we might have some ads to help cover our costs.
My goal is to help readers discover books in amazing and unique ways, while helping authors get their books in front of new readers.
I love reading and I am passionate about this business. Every business needs to make money so that it can build great things and be sustainable. Nobody goes into the book business to make Scrooge McDuck money 😁.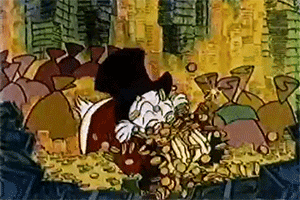 How do you make money now and who is funding this?
I am lucky in that I have had some good business exits as an entrepreneur and I am funding this myself from my savings (more about me and why I am building Shepherd). Shepherd launched in April 2021 and we are still very new. My main focus is on growing the features, content, and traffic over the next 3 years (2021, 2022, and 2023). My aim is to be financially sustainable by the end of 2023.
In the short term, the only way we make money is through links to buy the books online. Partners like Bookshop.org and Amazon give us a small percentage of any book sold (this comes from them and in no way from authors/publishers).
This doesn't add up to much, but as our traffic grows it helps to offset our costs.
For example, Amazon pays us around 4% to 4.5% of any book sold within 24 hours (not a great deal). If we sell $10,000 USD of books, our cut is around $420 dollars.
How will you build a financially sustainable business long term?
My goal with this project is to make it financially sustainable by 2023 so it can fulfill its mission of helping readers find books in new ways and to help authors meet readers. To do that we need to reach gross revenues of
$15
,
000
a month.
Our costs break down like this:
10% - Servers, software, and book metadata licensing costs.
40% - The team that runs the day-to-day (I work for free).
50% - The cost of our awesome freelance developer and designer.
We are a very lean operation. Goodreads has 347 employees listed on LinkedIn, while we only have 1 part-time freelance developer and me. Imagine what we could do with a team of three developers dedicated to this project? :)
After we reach financially sustainability I would like to build a larger team as we grow to do more and more for readers and authors.
How will you generate revenue besides affiliate?
I am not sure yet, I have a lot of ideas that I want to start testing once we are out of beta in late 2022. This could be things like...
A membership program where authors who like this site can support it with a small yearly amount and get some premium features, flair, and my eternal thanks.
A membership program where readers who like this site can support it with a small yearly amount and get some premium features, flair, and my eternal thanks.
A paid book launch program that features you and your new book in the most applicable sections of the site for x days.
Targeted books ads. For example, we might have an ad for one book on the book list pages under the 5 recommendations or mixed into the bookshelves for similar topics. I like this idea because if I wrote a Roman historical fiction I might like to advertise that on the bottom of books about Roman History.
A marketplace for children's book illustrators to sell copies of their illustrated work from their books (something I've bought for my son in the past to hang up in his room).
A marketplace for autographed copies of books.
A booklover e-commerce shop, so book-related merchandise like book-related greeting cards, products, etc...
Donations and possibly looking at Wikipedia as a model as we grow.
Some more wild ideas I won't get into yet but that I want to test further :).
These are all things I want to play with as we get more traffic and get more core features shipped. I am confident that I can build a sustainable business that helps readers and authors.
I hope that helps and drop me a comment below if you have questions.